How To Get A 10 Year Fixed Rate Mortgage
With uncertainty over interest rates many people are opting for a 10 year fixed rate mortgage.
The good news is that 10 year rates are currently very competitive. Reasons why people are moving to 10 year fixed terms include:
Certainty - By locking into a 10 year fixed rate you get peace of mind that your monthly repayments will not change. With Brexit and political uncertainty over the next few years many people are taking the decision to lock into a long term rates either on a 5, 7 or 10 year basis.
Low rates - 10 year fixed rates are as low now as they have been for a very long time. Many homeowners are taking the view that now is a good time to lock in.
Interest only options - Some lenders are offering 10 year fixed terms on an interest only or part and part basis. This type of arranagement is offered by some lenders if the loan to value (LTV) is lower than a set percentage of the value of the property you are mortgaging.This is typically 75% LTV or less. There are a few lenders that will go up to 85% LTV but you will need to speak to our independent mortgage team to access these rates. Some lenders will require a part interest and part capital repayment strategy for any borrowing over a set limit e.g. 60%. So if you have a 25% equity in your property, a lender may require that 15% of borrowing is on a part and part basis with 60% fully on an interest only basis.
---
Why do people Choose a 10 year fixed mortgage?
The main reason is to keep monthly costs to a minimum. 
1. Has your initial mortgage deal come to an end?
By switching to a better deal with a different mortgage provider, a 10 year fixed rate mortgage could potentially allow you to benefit from lower interest rates and lower monthly mortgage repayments for a fixed term of 10 years. If your current mortgage deal has come to an end, you may find a new 10 year fixed rate gives you a lower monthly repayment than you were paying previously.
2. Are you looking to raise money?
By remortgaging you may be able to release equity in your home.
People often remortgage to provide money for:
Home improvements
New Kitchen
New En-suite bathroom
Consolidate other existing debts.
Remortgaging can be a good low cost way of paying for your new home project.
---
2020 set to be a strong year for remortgaging
The impact of Brexit is likely to affect the market and could well lead to rising inflation and a squeeze on family finances, making remortgaging to cut monthly repayments an attractive option.
Inflation is on the rise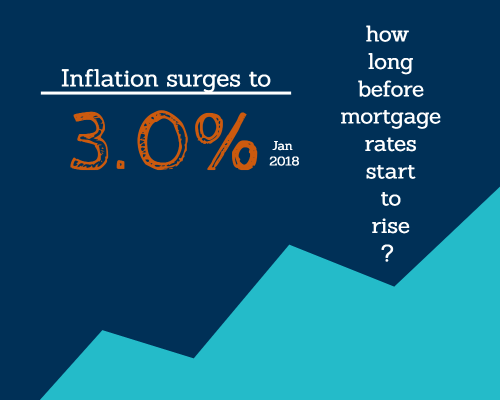 If you are thinking of remortgaging, it is advisable to do so now as lenders are likely to start raising their rates throughout the year as the full impact of Brexit begins to be felt.
How does a remortgage work?
Remortgaging essentially means switching from your existing mortgage to a new one. This can be with a new mortgage provider, or the same one you are already using.
Your current mortgage lender may offer an interest only option or part and part option. Alternatively you may need to remortgage with a new lender to get an interest only basis mortgage.
People usually consider remortgaging because they think they can get a better deal and reduce their monthly repayments, or because they want to increase their borrowing.
There are usually several costs associated with remortgaging, typically including a valuation fee, administration fee and legal fee. Many (but not all) lenders will offer to pay these costs when you switch your mortgage to them to make remortgaging more attractive.  
Independent Advice
If you are not sure whether now is the right time to remortgage or whether you can get an interest only deal speak to our independent mortgage broker team who will be able to offer impartial advice.