How To Get A Retirement Interest Only Mortgage
The good news is that last year the Financial Conduct Authority (FCA) announced plans to bring back interest only mortgages for older borrowers.
This was a response to the fact that nearly 2 million people in the UK are currently sitting on a interest only mortgage with no way to repay other than selling up with not enough equity to downsize property.

CASE STUDY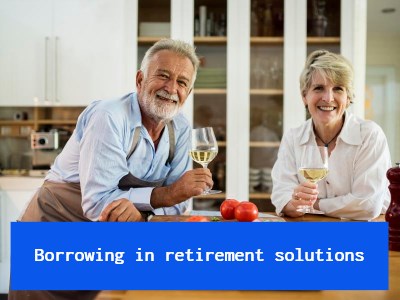 Mr & Mrs Johnson are coming to the end of the term of their existing mortgage with HSBC and have a shortfall of £75,000 which needs to be paid back in 6 months time.
They have children who have moved away from home but downsizing their property is not a preferred options as they are well situated for their grandchildren and have work within their community which they are committed to. 
HSBC will not extend the term of their mortgage and their remortgage options are limited.
A retirement mortgage would allow the Johnsons the peace of mind that they can stay in their home making mortgage payments on an interest only basis, but with the option to make overpayments to reduce the capital balance.
The knowledge that the mortgage could be paid off on death or going into long term care is also an important consideration for them.
A £75,000 lifetime mortgage could be offered to the Johnsons.
There would be a requirement for Mr Johnson to provide a 50% pension from his pension fund in the event of his death to ensure that the mortgage was affordable.
Loan required: £75,000 Property value: £300,000
| | | |
| --- | --- | --- |
| |  Mr Johnson |  Mrs Johnson |
|  Age |  62 |  57 |
|  Salary |  £29,000 pa |  £12,000 pa |
|  State Pension |  Full State Pension at 65  |  Full State Pension at 66  |
|  Pension Provision |  £250,000 Pension Fund |  £10,000 Pension Fund |
RIOs (Retirement Interest Only Mortgages) are standard mortgages designed for older borrowers to access later life lending options as their existing mortgage comes to an end.
With RIOs the main benefit is that your monthly repayment can stay on an interest only basis with repayment of the mortgage due on your death or if you need to move into a care home. This provides a lot of flexibility to homeowners who previously may have been facing the prospect of having to move.
A retirement interest only mortgage is designed to:
Help you renew your mortgage as you approach retirement
Help you release equity from your home
What exactly is a retirement interest only mortgage?
A RIO is similar to a standard interest only mortgage but with two main differences:
The mortgage is only paid off when you sell the house, move into long term care or die
You only have to prove you can afford the monthly interest repayments
They are available to over 55s and are similar to equity release schemes such as a lifetime mortgage where you pay off the capital and interest when you die or move into long term care.
Retirement Interest Only Mortgage - What Can I Borrow?
This will depend on the lender...
With a RIO (retirement interest mortgage) typically this will be based on affordability, so your retirement income and personal expenditure will determine how much you can borrow.
---
Independent Advice On borrowing In Retirement
If you are not sure about your retirement mortgage options we can offer impartial advice - complete the enquiry form above or call us on 0117 403 3464

Click to call
For more information on how a lifetime mortgage could work for you call us on 0117 403 3464
Your home may be repossessed if you do not keep up repayments on a mortgage or any other debt secured on it.