Cost of fixed rate mortgages have started to increase
A number of high street banks have started to increase their mortgage rates. The reason for this is that banks are having to pay more to access the funds they lend out to UK homeowners.
The message to homeowners is to take action
Ian Ramsden, TSB's Director of Mortgages, said;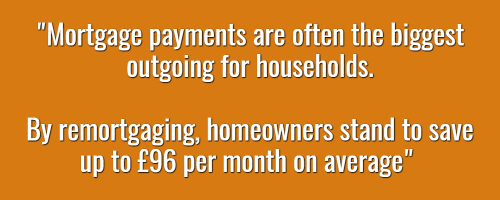 Latest research* shows that 36% of UK homeowners are sitting on their bank Standard Variable Rate (SVR).
When you took out your mortgage there was a good chance that you were given an initial fixed term deal over 2,3 or 5 years. At the end of the initial fixed term you will usually have been switched automatically to the lender's Standard variable Rate (SVR) of interest. The current average lender SVR is 4.40%.
If this is you there is a good chance your monthly mortgage payments are a lot higher than they need to be.
You are not alone. 4 million UK homeowners are in the same boat.
The bad news is that your mortgage payments are likely to increase further unless you take action.
September this year saw a sharp rise in remortgage activity

With the impact of Brexit yet to take full affect the market is seeing a rise in inflation and a squeeze on family finances, making remortgaging to cut monthly repayments an attractive option for many.
If you are thinking of remortgaging, it is advisable to do so now.
Call our remortgage team on  0117 403 3464 or complete our callback form
Compare UK Leading Remortgage Deals